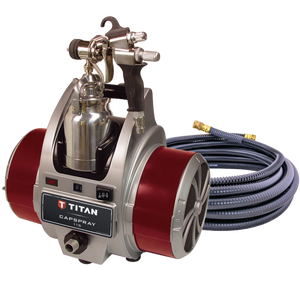 Titan Capspray 115 HVLP Free Shipping
$2,09900

$2,099.00

Save $399
---
---
0524034
Free Ground Shipping! (Cont. USA only)



New Unit
Full Four Year Manufacturer's Defects Warranty from Titan.


---
Special Offer!
Buy this unit, and get an Extra Maxum II HVLP Gun shipped separately for FREE! 
(Up to a whopping $315 Value!).
Extra details for all Canada and US addresses:
Having two guns is a handy feature for those times you are switching back and forth from clears to pigmented paints; or if you are out on the jobsite and don't want take the time to clean out primer to switch to finish coats or such.


How to Redeem Maxum II Gun Rebate:
It's very easy and only takes about 5 minutes to redeem a $300+ reward! Simply go to https://www.titantool.com/thor-promos when you receive your order. You'll need the box with the serial number that your Capspray Sprayer came with as well as an email address to create an account with Titan. You will also need the invoice showing proof of purchase. You can upload a picture with your phone or scan the invoice. Titan states the gun may ship in "4-6 weeks," but it usually arrives 2 or 3 weeks after the request is made. 
---
30 feet of air hose plus 5' whip hose

11.5 psi 6-stage Tangential Turbine

Ability to switch from 4-stage to 6-stage pressure

Maxum Elite Gun

1 Pressure Fed Quart Cup and 1 Gravity Fed Quart Cup

Extra #4 and #5

 

Projection Set (in addition to the stock #3 set)

Dual Air Filters

Built-In Cup and Gun Holder

Four Year Manufacturer's Defect Warranty

New Unit

From Titan:
This revolutionary, 6-stage portable turbine spraying system is the only turbine ever to achieve full HVLP capability. It combines quiet operation and high air cap pressure for the finest atomization possible. CAPSPRAY 115 will apply nearly all fine finish coatings with little to no reduction.

From Gleem:
This is the biggest, baddest HVLP system Capspray has ever made. It can switch from a 4 stage unit to a 6 stage with the flip of a switch. This feature insures you always have the right sprayer at the right time. Basically it can do anything a HVLP Sprayer has ever done and more. If you never spray heavier materials, then this sprayer may be more than you need, but then again there is something to be said for having the best. 


---
We Also Recommend