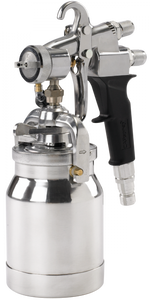 Titan Capspray Maxum II HVLP Gun - Free Shipping
Part Number: 0524041

This is Gleem's favorite HVLP gun on the market right now. The Maxum II Gun comes standard with Titan's Capspray Turbine Sprayers. This gun is also used with older SprayTech Turbines as well as Graco Turbine units. Many of our customers like this particular gun enough to use it with whatever Turbine System they have.
Features:

2 Stage Trigger (Air and Material)
#3 Complete Projector Set (All Purpose Size) 0276227
Stainless Steel Needle and Nozzle
Larger Air Volume Capacity
Non-Bleeder to Bleeder Option




Do I Need to Thin with This Gun?
The answer to this question really depends on the type and quality of material being sprayed as well as the projector set in use. Most of the time, the answer is yes. You can use a specific sized projector set for specific material and thin as you see needed. The best practice with this gun is to use the chart in the Owner's Manual on page 10 and a Viscosity Cup.
Patented bleeder to non-bleeder feature
Non-bleed eliminates constant air discharge that can blow dust onto newly painted surfaces. The bleed configuration gives maximum air flow for breaking up highly viscous materials.

Editor's Notes: This is the Same Maxum II Gun that comes with the Capspray 75, Capspray 95, SprayTech CS5100, CS81000, CS9100 HVLP units.

The Maxum II is a updated version of the NBC gun. (NBC gun came with CS5000,8000,9000 units and the new Wagner SoftSpray HVLP uses the NBC gun) The only difference you will notice between the Maxum gun vs the NBC gun is the Maxum gun has a multi-position pick-up tube for longer use without refilling the cup when spraying at angles (floors, ceilings), slightly larger air passage ways, plus the Maxum gun has a different air valve adjustment knob. Otherwise they are the same high quality guns. 
---
We Also Recommend