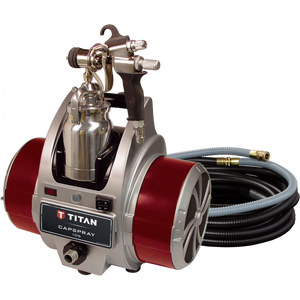 Titan Capspray 105 HVLP Free Shipping
$1,81900

$1,819.00

Save $346
---
---
0524033
Free Ground Shipping! (Cont. USA only)



New Unit
Full Four Year Manufacturer's Defects Warranty from Titan.


---
Special Offer!
Buy this unit, and get an Extra Maxum II HVLP Gun shipped separately for FREE! 
(Up to a whopping $315 Value!).

Extra details for all Canada and US addresses:

What Comes in the Box:
30 feet of air hose plus 5' whip hose

10.5 psi 5-stage Tangential Turbine

Maxum Elite Gun

1 quart cup

Extra #4 Projection Set (in addition to the stock #3 set)

Dual Air Filters

Built-In Cup and Gun Holder

Tool Box

Four Year Manufacturer's Defect Warranty

New Unit
From Titan:
Larger projects involving heavier-bodied coatings require the 5-stage power and long-term dependability of the CAPSPRAY 105, a solid - but remarkably lightweight - workhorse HVLP capable of atomizing thick latex or solvent-based paints, enamels or varnishes with little or no thinning. This is the sprayer professionals use when projects expand or workshops fill with cabinets and furniture. - Recommended for larger residential and commercial projects where specifications call for a variety of light and heavy-bodied coatings.

From Gleem:
This is the latest model. It is the newest version of the Spraytech Capspray 9900 or CS9900.

Here is the Titan Capspray Series Brochure.

Here is the Titan Capspray 105 Owner's Manual.

---
We Also Recommend
Great company
Gleem paint is a wonderful company, very polite an respectful. Michael always knows exactly what I need every time I order, he's such a great guy. I recommend everyone to stop by or place a order over the phone or website.👍👍👍👍👍