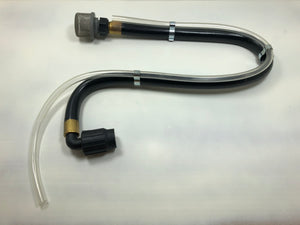 Suction Set, Complete, Metal-Flex, (9140, 1420, XT250, XL255, PF23) New Ver.
0516197 or 516197
This is the newest "S" shaped metal flex suction set for DPS-Apex-XT units that are on stands. (A "Stand" model has No wheels.)

This S-shaped metal/flex suction set can also be used as an upgrade suction set on several older units.


Designed for Wagner/SprayTech/Titan: 9140, 1420, XT250, PL800
Also compatible with Wagner/SprayTech: 9135, PF23, 1400, 935, 841, 844, and more!
Upgrades part numbers 0512215 & 0295182; direct replacement for discontinued part number 0516219.
Features:
Flexible - makes it easy to insert into 1-gal and 5-gal pails
Metal Threaded Nut- resist stripping

 

(Plastic outer housing.)
Metal Meshed Intake Filter- helps keep the trash out the sprayer and last longer than the plastic filters.
Optional

 

(Pick "KitA" [+$2.00 Extra] for this option.)

 

Water-hose wash-out adapter cuts clean-up time of waterborne coatings.
Includes return hose and clips
Option Description:
Kit A includes the water hose wash-out adapter with the suction set. The wash-out adapter allows you to hook this suction set up directly to a water hose for clean-up of waterborne paints.
Gleem's Comments :
 This Metal/Flex suction set replaces the obsolete/discontinued 
0516219
 version. This newer 0516197 version is completely interchangable with old version as for pumps; however this newer 0516197 version uses a different filter.
---
We Also Recommend
Excellent Service
Perfect replacement for OEM item. Friendly and helpful service. Fast shipping