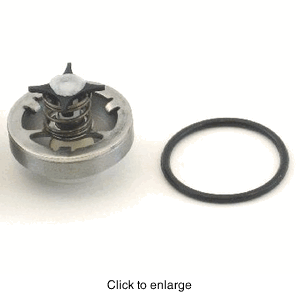 0515221 Inlet valve seal (770)
Part number: 0515221
Paint Crew 770 Repair Part
Frequently Asked Questions :

Q. How often does the inlet seal kit need to be replaced?
A. Approximately every 25-26 gallons. However this number will vary depending on how coarse the fillers (silica or such) are in the paint being sprayed. Example: Spraying clears, the seals will last much longer. Spraying flat wall paints (which has lots of junk fillers) will not last as long.

Q. How hard is it to replace?
A. Extremely easy, (takes about 1-2 minutes) instructions are located on page 10 (Under the "Cleaning the Inlet Valve" section) of the Paint Crews owner's manual.

Instructions are listed below; however before servicing, always release system pressure by following the "Pressure Relief Procedures" (on page 5 of owner's manual). 
*This is a discontinued part. We do not expect to be able to replenish our inventory after we sell out.

---
Cleaning or servicing the inlet valve may be required if the unit has priming problems. This may be caused by lack of maintenance and/or storage.
---
We Also Recommend
Mike in the parts did very well for he know his parts and how to fix my sprayer with the right parts very happy with parts and service thank you very much