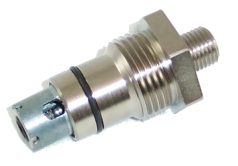 #5- 0515237 Outlet valve (770)
0515237
Part #5 in the manual for the Paint Crew 770.
Old part# was 0515205
Frequently Asked Questions :
Q. How often does the outlet valve need to be replaced?
A. This part will usually last up to around 25-35 gallons. However this number will vary depending on how coarse the fillers (silica or such) are in the paint being sprayed. Example: Spraying clears, the valve will last much longer. Spraying flat wall paints (which has lots of junk fillers) it will not last as long.

Q. How hard is it to replace?
A. Extremely easy, (takes about 30-60 seconds) instructions are located on page 10 (Under the "Replacing the Outlet Valve" section) of the Paint Crews owner's manual.

Hears a copy of the instructions below; however before servicing, always release system pressure by following the "Pressure Relief Procedures" (on page 5 of owner's manual)..


---

Replacement of the outlet valve may be necessary if your spray performance remains poor after having performed all the steps contained in the Spraying Troubleshooting section of this manual.


---
We Also Recommend
#5- 0515237 Outlet valve (770)