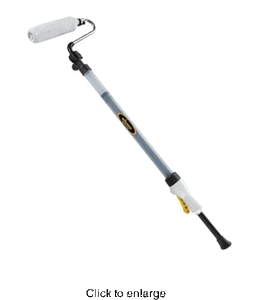 Wagner Smart Roller ® Paint System
Comes with a one year limited warranty
The System Includes :
9" x 3x8" roller
Fill Tube
22 oz. Applicator
Owners Manuals Included

Smart Roller Info From Wagner:

Eliminate several back-bending trips to the paint tray. This all-in-one roller and paint container features our exclusive Power Trigger™ technology for easy manual operation. With a simple squeeze of the trigger, paint is transferred from the roller to the wall or eight-foot ceiling. Painting has never been so easy. 

For small/medium projects. Covers 80 square feet with one fill. Quick disconnect tabs for easy arm release.

Latex and oil-based paint compatible. 


From Gleem:

Think of this system as a manual power roller. It works similar to a battery/electric power roller, except you pull the paint up yourself. The paint is pulled right out of the paint can by pulling the plunger on the Smart Roller. Then you squeeze the Power Trigger™ to push the paint up to the roller cover. It is an efficient little system.
Ask yourself, why would you buy a roller cover, roller handle, extension pole, paint tray to do traditional roller painting, when you could buy one of these Smart Rollers for less than $30? Now, if the Smart Roller® cost $70 or more, we would not be excited about this product. (and would recommend you get a true power roller instead) But at this price, it is about the same price as buying a traditional roller setup; and you can paint at twice the speed (and at least 1/2 the mess) since you are not constantly going back to the pan to refill.

We also find customers get better paint job using the Smart Roller® or Power Rollers over traditional rollers, since they tend not to "dry roll" the roller-cover. (Dry Roll is the term used when a roller is used to paint a section of wall or such with too little paint loaded on the cover. Dry rolling leads to a coat of paint that is too thin to cover/hide and too thin to provide the proper film build needed for durability.)


Formerly Part #0284041
---
We Also Recommend