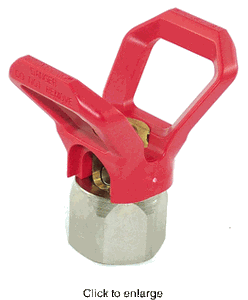 Titan - Wagner - Spraytech Reversible Tip Base/Guard (11/16 inch)
0297078
Also called "Guard Assembly"

Thread Size Info:
This tip base/guard is the older 11/16" [F] thread.  This means the diffuser on your gun (diffuser is the part you screw the tip base onto) must be 11/16" also.  11/16" [F] is the older size that was used on Wagner, SprayTech, Titan, and ASM airless guns sold in the USA prior to 1997-1998.
 If you need a new Industry Standard 7/8" base, Click Here.
Click this link to see a  if you are not sure which size thread you have: Picture of the 11/16" and 7/8" thread sizes



Tip Compatibility Info:
This tip base (guard assembly) will work with the following reversible tips :
SprayTech RC tips
SprayTech FF Tips
SprayTech XL Wide and Stripping tips
Wagner Trade tips
Titan
ASM Uni-Tips
Graco Rac IV & IV tips

 

(Will not accept the Rac X tips)
We have an illustration below (note the older zip tip to the right does not use this base) 
---
We Also Recommend