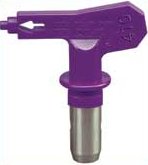 Titan Synergy SC-6 FF (Fine Finish) Airless Tips
Part #: 671-
So what's the word on these newer Fine Finish tips? The feedback from painters has been very good. The special feature of these tips is the dual atomization. The tip barrels have two carbide tips in a row (therefore the higher cost). The first carbide slightly breaks up the finish, while the second carbide completes the atomization. This equates to finer atomization, sharper edges, and a side benefit is you can spray at lower PSI settings than usual. (Lower PSI also helps to slightly lower overspray.)

F.A.Q. on these tips:
Q: Will these tips fit the XXXX airless paint sprayer on your web page?
A: Yes, these Titan SC-6 FF tips will fit the tip base on all the airless sprayers we sell. However, you will need to purchase a Red Extra-Fine 180 mesh gun filter to use the .008"-.012" sizes. Otherwise the small offices sizes of these tips would be prone to clog. For the .014" size you can use either the Red Extra-Fine or Yellow-Fine.

Not sure what size tip to get or what the numbers mean? Click this link for our guide on tip sizes: Understanding Airless Spray Tip Sizes



Features :
Comes with seal and saddle
Dual atomization chambers creates a soft spray with ultra-fine atomization.
Designed for the highest quality finish while spraying at low fluid pressure.
Sprays lacquer, varnish, stains and all other fine finish coatings.
Made from the finest tungsten-carbide available
Interchangeable with all major brands*
Every tip comes with a new saddle seal and a core washer for your base.
Other manufactures charge you $5.00 extra for these seals.

Q1: What materials can you spray with these tips?
Sprays lacquer, varnish, stains and all other fine finish coatings.

Q2: Ok, can you spray latex with these tips?
Depends, it would have to be a Semi-Gloss or Gloss made from a fine grind of pigments, or latex clears and such. You are not going to be able to spray latex primer (with lots of junk fillers) with a Fine-Finish tip. We have not yet had time to do a good full test on these tips ourselves. But have heard from some users they are getting excellent results using Fine Finish tips spraying baseboards, crown molding, and other trim on new homes. (They were spraying high quality, acrylic latex gloss and semi-gloss paints; in particular a Coronado brand 90-1 and 80-1)

*Package says "Interchangeable with all major brands" These brands include Wagner, Titan SprayTech, Ampsray, Krebs, Graco and Campbell-Hausfeld. The exception to this rule will be Tip Bases manufacted in 2000 or earlier. (In which case an we do think it's about time for a new Tip Bases/Base Guard) These tips will even work with the Graco RAC 400s, 500s, but not the 1000s.
---
We Also Recommend