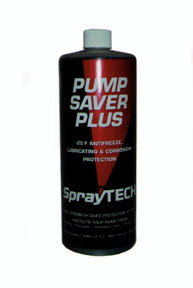 Liquid Shield Plus - Pump Lubrication & Corrosion Protection Concentrate
Titan Lubrication & Corrosion Protection One quart

For Piston and Diaphragm pumps.
Protects from:
Corrosion
Premature wear
Sticking seats
This is a CONCENTRATE. You mix 4 to 8 oz per gallon. At 4 oz per gallon it would yield a total of

 

8 gallons

.

Circulate mixture completely through the pump, hoses, and gun - leaving the mixture in the system by keeping the hose and gun connected to the pump.

Note: You may not need to mix a whole gallon. A 1/2 gallon mixture may be enough fluid on most pumps.
---
We Also Recommend