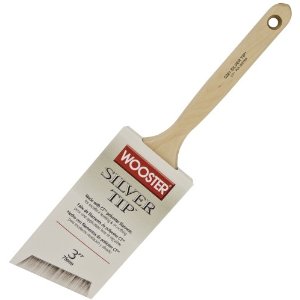 Wooster Silver Tip Angle Paint Brush - 3" 5221-3
Wooster Silver Tip Angle Paint Brush - 3"     

5221-3
Features:
White & silver CT™ polyester, chisel trim
Very soft formulation, feather stroke
Rust-resistant, brushed steel ferrule
Birch hardwood handle

From Wooster:
Excellent leveling and smoothing with all paints, especially lighter or thinner coatings including latex, polyurethanes, and varnish.

From Gleem:
This brush is certainly an excellent choice for getting a trim job done quickly. The angled bristles make it easier for cutting in straight lines and the full 3" of bristles hold plenty of material.

---
We Also Recommend