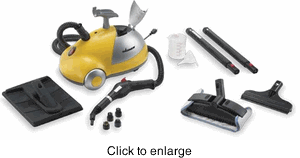 Wagner 915 Power Steamer, On-Demand 0282014
Features :
ON-DEMAND Fingertip Steam Control for continuous steam or intermittent steam.
Remove wallpaper 20% faster than non-pressurized steamers.
Steam cleaning actions kills bacteria beneath the surface to sanitize.
Chemical-Free, no messy wallpaper remover chemicals and no chemical residue left while steam cleaning.
Fast, effective and safe.
Includes :
Window/Tile Squeegee
Flooring Cleaning Head & Pad
Two Extension Tubes
Measuring Cup and Fill Funnel
Steam Plate
Assorted Utility Brushes
Reference Links:
Owner's Manual, Wagner 915/905 Steamer (1.5mb)


From Wagner :
The new Wagner 915 Power Steamer is a pressurized steam system that supplies steam at the touch of a button. The 915 is Wagner's most powerful wallpaper remover. The pressurized steam removes wallpaper up to 20% faster.

The 915 Power Steamer is not only great at removing wallpaper, it is a versatile system that allows you to quickly clean and sanitize your home. The powerful steamer can clean grimy barbeque grills, greasy stovetops, bathroom fixtures, floors and much more.

The 915 Power Steamer cleans without chemical and will never leave a messy residue.

 



From Gleem

 

:

(For sale is the current 915 model which replaced the 905. The following comments were originally written about the 905, but apply equally to the new 915.)

First, we would like to say this 905 power steamer is the only unit we have ever offered on our website. Why? Well, all the others we tested in the past were a waste of time and money. Either they were slow in heating up, constantly out of water, or simply proved ineffective at removing wallpaper

 

(which is our main purpose for a power steamer).

 

With the old steamers, after a few minutes of use, we would go back to the old tried-and-true method of using a sponge (or pump-up bug sprayer) and warm water with wallpaper-remover-additive. Well the 905 has changed our opinion of power steamers. In short, this 905 simply blows the older models away. And most importantly, it is effective at removing wallpaper! We took a 905 to test on a bathroom wallpaper removal job. We figured we would experiment with it for a few minutes but brought the old tried-and-true solution with us to finish the job. To our surprise, the unit worked so well that we did the entire bathroom with the steamer. The most noticeable difference in using the steamer for wallpaper removal was how "less messy" the whole process was. The process was almost enjoyable.

 

(Well, removing wallpaper is never totally enjoyable. Lets say it seemed enjoyable compared to past wallpaper removal jobs!)

 

This steamer also comes with several nifty attachments for cleaning household items. We have not tried it for cleaning yet, but suspect it will work fine.

What makes this unit so much better than older models? There are many factors but the biggest reason we noticed is the

 

On-Demand Pressurized Steam. This allowed the steamer to put out a much stronger/hotter steam burst than we have experienced with non-pressurized units.

---
We Also Recommend