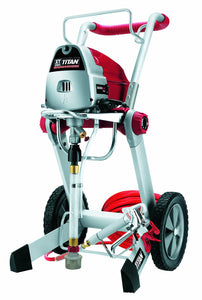 Titan XT290 Airless Sprayer
$39995

$399.95

Save $197.05
---
---
Gleem's suggested alternate spraying rigs are the Titan Impact 440 for a more professional quantity of spraying and the Airlessco SP340 for the residential painter with intermittent spraying jobs. 
The Titan XT line was designed for paint contractors, handymen, property managers and homeowners who need reliable, high quality equipment at an affordable price. This well-trusted sprayer line is perfect for a serious do-it-yourselfers handling several spray jobs a year. These sprayers are referred to as "entry level contractor" sprayers. Their double stroke piston pump allows for higher pressures than other paint sprayers which helps prevent poor atomization and contributes to an overall more quality product. Titan XT sprayers are built to handle over 200 gallons of paint before needing repairs. 
5/8 HP DC motor [runs off 15 amp household current}
Double Stroke Piston Pump
XT-05 Airless Spay Gun
Medium Mesh (Yellow) Inline Gun Filter

Cart model with Wheels and Collapsible Cart for easy storage and transport
Draws paint from a one and 5 gallon can
Pail Hook, allows you to tilt the cart back and lift/carry a 5 gallon pail.
25' of hose (Can be upgrades to 50' hose in the drop down box)
.33 GPM
415 reversible tip
.017" Max tip
3000 PSI
Latex, Lacquer, Enamel and Oil Based Spraying
Titan XT290 Features:






Collapsible Cart - Makes for
easy storage and transport.




Quick-Check Power Cord- Lighted electrical cord lets you know instantly whether you have power.

---
We Also Recommend