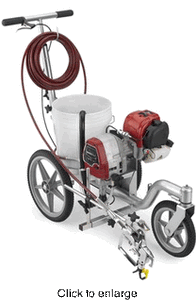 Titan POWRLiner 850
$2,48400

$2,484.00

Save $473
---
---
Efficient, Compact 1.1HP Gas Powered Line Striper for Parking Lots and Athletic Fields.

BRAND

 

NEW


With full Titan Speeflo WearGuard® factory Warranty.(Call Titan @ 1-800-526-5362 to get full details on the WearGuard® warranty.)
---
----NOW WITH REMOVABLE GUN!---
You can paint curbs, stencils, and just about anything else with this unit!
---
Dependable, EASY-starting, Robin-Subaru® 4-cycle 1.1 hp OHV engine
.33 GPM
.021"--Traffic/Paint Max tip Supported
.023"--Field Marking Max tip
LX-40 Spray Gun with

 

Inline Gun Filter.

 

(Push in filter, not the odd threaded titan filters.)
Adjustable Pressure Control

 

(New Feature!)
1x SC-6 Reversible Striping Tip
(Either: 665-1908 4"-6"Fan .019"Orifice

 

Or

 

665-1708 4"-6"Fan .017"Orifice depending on stock)
25 ft Airless Hose
Max. Spraying Speed*: 106 linear ft. (32.3 m) per minute @ 1.2 mph (1.9 kph)
*Based on 4" (10 cm) line @ 15 mil wet film thickness and 320 linear feet per gallon coverage.
2,500 PSI max
Line Width Range: 2" - 12" (5 cm - 30.5 cm)
Weight: 65 lbs (Crated: 75lbs)
Dimensions: 41" H x 31" W x 60" L (Boxed: 24" H x 26" W x 44.5" L)
BRAND NEW! With Titan/Speeflo Weargaurd Warranty


From Titan/Speeflo:
Recommended for Light and Intermittent Duty on Small Parking Lots and Athletic Fields. 



From GleemPaint:
This is a great utility striper for School districts, athletic field marking, and property maintenance. The efficient 4-stroke Robin-Subaru Gas/Petro motor on the 850 PowrLiner (FYI: Titan spells the "Power Liner" name with no "E".) is easily one of the best gas motors in it's class.

One upside we noticed is that now the spray gun CAN be removed from the holder to be used independently. This enables the unit to be used for stenciling parking lots or painting curbs and can be used for painting just about anything that you would use an airless for.


See It In Action!



*This product is exempt from Free Shipping*
---
We Also Recommend