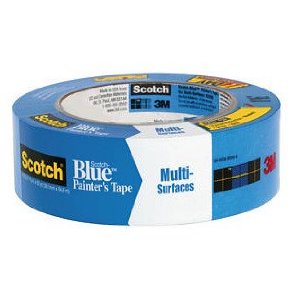 Scotch Blue 3M Painter's Tape 1.5'' 2090-1.5
Scotch Blue 3M Painter's Tape 1.5''     

2090-1.5
From 3M:
ScotchBlue™ Painter's Tape for Multi-Surfaces is a versatile tape that works great on different textures. Use it to mask trim, woodwork and glass. It provides professional looking, clean paint lines on smooth to lightly textured surfaces.

Adhesion Level: Medium
Removal Time: 14 Days
Good For: Interior and exterior use


From Gleem:
This is the original blue painter's tape. It works quite well. While we recommend removing as soon as possible, this tape is rated to survive up to 14 days outdoors.
---
We Also Recommend