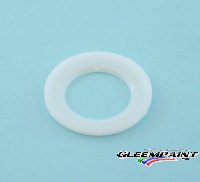 Ring (fits above diaphragm)
0270494/270494

Ring installs above diaphragm, into the pump head. Flat side goes into pump head, curved side go towards diaphragm. The old ring can be pried out using a small screwdriver. Note: Be sure not to scratch the paint pump block!
Fits with Diaphragm Part# 0278240 and often replaced at the same time.

Alternate Number Note: This 0270494 White Ring replaces the old 0047424 Black Ring; both rings are completely interchangeable.
---
We Also Recommend