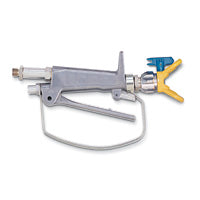 ASM Airless Combo Gun - w/517
ASM# 248241 Airless Spray Gun with TipBrand New w/One year ASM warranty.

(Gleem Paint is an authorized ASM service center)
Features:
Built in

 

Gun Swivel
This is a Very handy feature!
Combo Gun Model -
A: Works as in

 

inline gun for airless extensions and rollers.
B: Works as a regular airless spray gun.
Ergonomically Designed for User Comfort
Comes with one 517 reversible tip
Safe Internal Trigger Lock
G (7/8") Tread Diffuser
Inline Filter in Gun Handle
Filter included is a White-Medium mesh
3600 psi Rating
One year Limited Warranty
Hand Tight Universal-Tip Base
The universal tip base will accept all current major brands* of reversible tips on the market, including: Wagner, SprayTech XL&RC, Graco Rac IV & V (*will not accept Rac X), Titan, and of course ASM Uni-tips.
Natural Aluminum Finish

Tips:
This Inline/Combo Spray Gun comes with a 517 reversible tip. For additional tips, click below.


Filters
This gun includes a white/medium filter in the gun handle, additional filters are located at this link below. (same filter as all the other Wagner/SprayTech guns take)
---
We Also Recommend