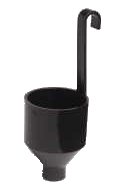 Viscosity Cup (Black)
Part Number: 0153165
A viscosity-cup is used for testing the viscosity of your paint; in order to achieve the proper thinning ratio. Mainly used with HVLP and Power Sprayer units, but could be used with any paint spray gun.

F.A.Q.:
Q. What is the Din size of the cup?
A. It is very close to the DIN #4 cup, but it is not an exact "DIN 4".
---
We Also Recommend