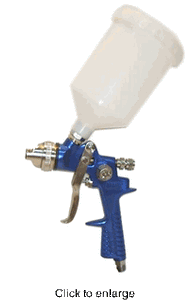 507 HVLP Conversion (Gravity Feed) Gun
$3995

$39.95

Save $107.05
---
---
**Optional Kit - Includes gun pressure regulator and custom stand!! (not pictured- highly recommended)

High Volume Low Pressure gravity feed spray gun, model #507 Manufactured by Ningbo Industrial
Purchased Off an Overstock - Passing the Savings to You!

Features:
Quality built gun
6.24" Max pattern width
Gun wrench
Cup filter
Cleaning brush
Nylon material cup w/lid
Stainless Steel needle and fluid tip
1.4mm projector set
Operating pressure 15-50 psi
Recommend psi is 43#
Air consumption 7.5 cfm at 43#
This gun normally sells for $145.00
Manufacture's Notes
This High volume Low Pressure gravity fed spray gun features high atomiztation with low air pressure, saves paint and protects the environment. Better than 75% transfer efficeincy means reduced spray mist, resulting in a significant reduction of operating cost. Stainless steel needle and fluid tip allow use with water based paints.
Gleem's Notes
We purchased these guns on an overstock special, and are passing the savings on to you! Mostly sold for automotive use, some remarks are "Applies all automitve paints and wood finishes for a near class A finish." From our own test we agree. The manufacture notes the gun "comes with a stainless stell needle and fluid nozzle which allows use with water based paints." Essentially this means it will not rust This does not mean, however, that this gun is made for thick latex paints. In our tests, latex paint could be sprayed properly if thinned about 20%.
The 507 is really suited more for spraying car paints like urethanes. It also did well spraying some quick dry alkyds when thinned about 10%.
This is an excellent bang-for-your-buck gravity fed HVLP gun. At this limited time price, the 507 is very hard to pass up. And even though it may not seem neccesarry, the optional upgrade with the gun holder is extremely useful, and makes refilling the gun a breeze.
Compressor Notes
The manual says 1 HP or bigger. We recommend at least 2 HP. In our test, we used a 4 HP 25 Gallon Craftsman, and a 3 HP Porter Cable model. Both had good results. One thing to note is you need to turn your compressor up to about 55-65 PSI to compensate for the line drop to the gun.
---
We Also Recommend