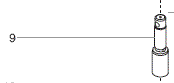 Piston Rod 0551537
***NOTE:
For Owners of Titan Advantage 400 and 500 machines, please see information at the bottom of this page.
Part 0551537 is item number 9 shown below in the fluid section breakdown.
---
---




***NOTE:

The Titan Advantage 400 and 500 machines were manufactured with 2 different piston designs. It may come with the one featured above that has a dowel pin design like all the Spraytech EPX machines. BUT...

They also made units that have pistons with a "T" shaped slot design at the top. **THEY ARE NOT INTERCHANGEABLE** Please determine which piston design you need before ordering. If you would like to order a T-Slot Piston, select that option from the drop down box.
---
We Also Recommend