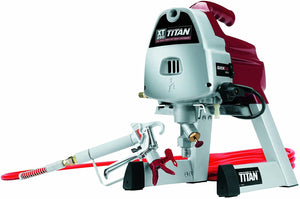 Titan XT250 Airless Paint Sprayer
Designed with property managers and handymen in mind, the Titan XT250 is a solid choice for anyone that wants a quality airless sprayer below the big prices of a commercial unit. 
Titan XT250 Specs:
1/2 HP Motor
Double Stroke Piston Pump
XT-05 Professional Grade Spray Gun (7/8" threads)
Medium Mesh Yellow Gun Filter
415 Tip
Suction Set for 1 or 5 Gallon Buckets
25' Hose (Can be upgraded to 50' in the drop down box)
.29 GPM
.017" Max Tip Size
3000 PSI
Latex, Oil, Enamel and Oil Spraying
Portable, Stand Model
We like the 250 because it is one of the few double stroke piston pumps available on the market. With pressure being created on the up stroke as well as the down stroke, this means the motor doesn't have to work as hard to get higher PSI. 
It's also completely rebuildable. Eventually, all sprayers have to be repaired, so buying a unit that is easily fixable puts savings back in your pocket down the road. Depending on storage and the type of paint being sprayed, the XT250 is dependable for about 250-300 gallons of paint, and this is a unit that will last that long. We sell the Prime Spray Valve Replacement as well as the Piston Repair Kit for the XT250 here.
---
We Also Recommend